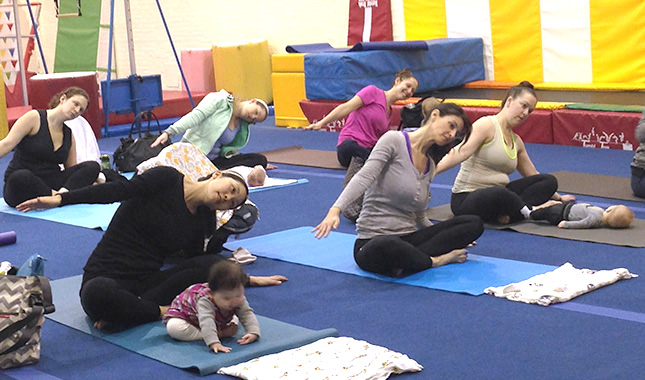 We recommend that babies be between the ages of 6 weeks and 8 months (pre-crawlers). Yoga mats will be provided, but you are more than welcome to bring your own.
The class is for all levels and is designed to address body issues chronic to new motherhood. We will work on decompressing the back, releasing tension in the neck and shoulders, strengthening pelvic floor muscles, rebuilding core strength and, of course, relaxation. Bring your little one to enjoy yoga time with breathing techniques to calm you and your baby, gentle baby massage and stretches, and community building.
Taught by Kristina Blinstrub.   https://www.peacefulpiggyyoga.com/
Kristina Blinstrub graduated from Pepperdine University with a MA in Education, Purchase College with a BA in History, and received her Montessori teaching credential for ages 3-6 years old. She previously was a head teacher at Morningside Montessori School upstairs from the Discovery programs and left to pursue teaching yoga. She received her 200 hr RYT training from Frog Lotus Yoga in the Berkshires and her children's yoga teacher training from Karma Kids Yoga in NYC. She has taught yoga to all ages for the last 15 years in both California and New York and . She lives on the Upper West Side with her beloved cat Tucci. She is delighted to bring breath, creative movement, a sense of well being, and inner peace to local babies and their families through the inspiring practice of yoga.
Tuesdays  12:15-1:15pm   TBD
6 weeks - 8 months (pre-crawlers)
6 weeks - 8 months (pre-crawlers)
Fee
Pricing $30 cash/check for individual class.
Pack of 5- $150 payable by Visa, Mastercard, cash, check
RSVP to 212-749-8717 or discoveryprograms251@gmail.com