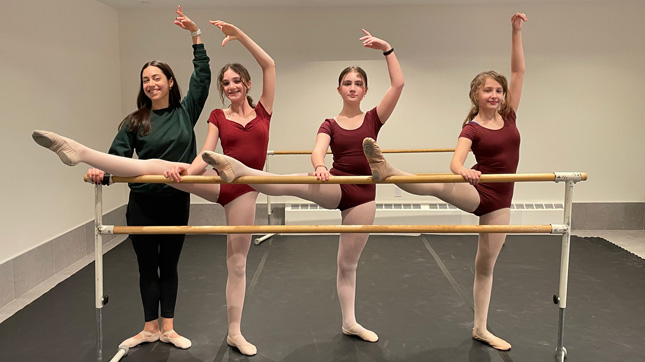 "Ballet is the most special experience for our daughter."
Real ballet lessons
Ballet is the foundation of all dance techniques. This is a comprehensive beginners ballet lesson that introduces ballet technique, line and performance values that can captivate children and open the whole world of dance to them.
Students are gradually introduced to the basic elements of the ballet barre: turn-out, the vertical stretch, demi-plié, relevé, tendu, dégagé, fondu, rond de jambe, développé, battement. They are introduced to basic ballet body positions: en face, croisé, effacé, écarté and in every class practice a port de bras sequence taking them through the first, second, third and fifth positions of the arms and feet.
Children also begin learning basic ballet steps: balancé, chassé, sauté, glissade, pas de bourrée, temps lié, échappé, changement. The teacher introduces the technique of spotting and once they can do it, then children have the fun of learning simple turns like chaîné, piqué and soutenu.
Discovery's ballet lessons include important concepts of ballet:
the feet point the moment they leave the ground;
the importance of the head and how it moves in relationship to the arms;
the final dance movement or pose must be sustained until the sound of the last note of the music fades away;
and how to propel themselves in space on the floor in large center combinations.
Our ballet lessons for children are designed to give them insight into the art of dance and to develop and nurture their love for it.
We are so proud that so many of Discovery Programs ballet students have been chosen to attend the School of American Ballet and the Jacqueline Kennedy Onassis School.
Please note: All dance students ages 3 and older, participate in our annual Nutcracker recital and have the thrill of performing on stage for their families and friends.  Fees do not include tickets.
Age 7-8 Ballet
Age 7.5-9 Ballet
Age 9-10 Ballet
Age 11-12 Ballet
Age 11+ Pre-Pointe*
*Invitation Only
Age 7-8 Ballet
Age 7.5-9 Ballet
Age 9-10 Ballet
Age 11-12 Ballet
Age 11+ Pre-Pointe*
*Invitation Only
Ballet Location
Tuesday Classes held at Kehlilat Romemu - 176 West 105th Street
Monday, Wednesday and Thursday Classes held on Ansche Chesed - 251 West 100th Street
Saturday Classes held at the Franciscan Community Center - 214 West 97th Street

Fees
Ages 7/8 - $60 per class
Ages 9/11 - $60 per class
Ages 11-13 - $66 per class
Prices calculated by number of weeks remaining in semester.

10% discount for the second class.
15% discount for the third class.
10% discount on siblings.
Discounts cannot be combined.