Winter/Spring Registration Open!
We have had a safe and successful school year thus far, and we look forward to another great semester. Our goal is to continue to engage, inspire and connect with our students in safe ways.
We are currently updating our Covid-19 Protocols to include:
Indoor Vaccine Mandate Ages 5+
New guidelines for quarantine and isolation
Classes for ages 3 and older will continue to be drop-off outside
Classes for babies and toddlers will allow one grown-up per child
Masks required for all staff, parents/caregivers, and all students ages 2 and older
call us
212.749.8717
visit us:
251 West 100th Street at West End Avenue New York, NY 10025
sign up for our newsletter
For children who want something a little different than what traditional team sports and martial arts have to offer, Parkour for Kids at Discovery Programs is the way to go!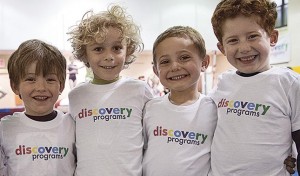 Discovery is not just for girls! Gymnastics, sports and gym, and junior sports.
"Discovery is like a breath of fresh air in the city! You just attract nice, down to earth people."
"We've visited a lot programs, but your program has the most loving teachers! Everywhere else they tell us how much the kids will know when they leave, but you talk about learning to trust yourself, feeling secure, and having fun! That's what we want."
"She had a terrible separation experience and I was so nervous. But she did great here. You guys know what you're doing!"
"The Discovery Almost on My Own pre-school program has been so much more than a 'school' for our daughter. We've felt welcomed into a family."
"Baby Gym is a great, great program!! The instructors go out of their way to make each minute a positive experience. They really make it special."
read more
Summer  2022 camps and semester begins:
July  7th - September 9th
Winter/Spring ends May 27th
Discovery Campers – 3/4 years old, 9:15am – 1:15pm Each morning children arrive with a smile ready for art projects and free play experiences. Movement, music and fantasy…

read more

Dear Parents, As you know, the city has changed the mask and vaccine mandates. Many of our contemporary organizations are also making changes in line with the city's…

read more

New Dance Classes: Contemporary Dance- Ages 7-10 Tuesday 5:45pm My First Dance- Ages 19-24 months Thursday 9:15am Bust a Move Dance for Boys and Girls- Ages 3-5 Thursday…

read more
Last month we featured our gymnastics coaches, this month we feature our other teachers. We asked them the following questions: ..

read more

We are so happy to be able to offer your children safe physical activity again. One month has gone by since our opening and things are going smoothly..

read more