Discovery has released our Fall schedule!
We have missed our students so much over these last months. We know that things will be different but we have faith that our team of teachers and staff will find new ways to engage, inspire and teach our students in this "new normal." We have always put connection to students as a priority and this will stay the same. Smaller classes and very intentional instruction will yield the way. We are opting for our 16 week semester but parents may do half payments.
Please know that our main goal will be to keep everyone safe and healthy so please take a look at our Covid-19 Procedures and Policies.
We are truly all in this together and in partnership with you, the parents, we know that your children will be able to enjoy some of their favorite activities again.
call us
212.749.8717
visit us:
251 West 100th Street at West End Avenue New York, NY 10025
sign up for our newsletter
For children who want something a little different than what traditional team sports and martial arts have to offer, Parkour for Kids at Discovery Programs is the way to go!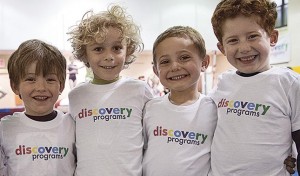 Discovery is not just for girls! Gymnastics, sports and gym, and junior sports.
"Discovery is like a breath of fresh air in the city! You just attract nice, down to earth people."
"We've visited a lot programs, but your program has the most loving teachers! Everywhere else they tell us how much the kids will know when they leave, but you talk about learning to trust yourself, feeling secure, and having fun! That's what we want."
"She had a terrible separation experience and I was so nervous. But she did great here. You guys know what you're doing!"
"The Discovery Almost on My Own pre-school program has been so much more than a 'school' for our daughter. We've felt welcomed into a family."
"Baby Gym is a great, great program!! The instructors go out of their way to make each minute a positive experience. They really make it special."
read more
Semester dates
Current semester: Fall Semesters begins September 11.  Register online only.
September 11 - January 29th
Join us! We will continue to engage, inspire and connect with our students in safe ways. Masks required * Health screening * Social distancing * Small class sizes…

read more

All classes begin September 11th! We will continue to engage, inspire and connect with our students in safe ways. Masks required * Health screening * Social distancing *…

read more

Discovery Programs has released our Fall 2020 schedule which is on our website at the link below! We plan to open in September, as long as there is…

read more
We are so happy to be able to offer your children safe physical activity again. One month has gone by since our opening and things are going smoothly..

read more

We are disappointed that we didn't get to finish the year in person, but it was still a wonderful year! Here are some of the highlights..

read more