Discovery's Winter/Spring 2021 Semester Begins February 1st!
We are looking forward to another great semester with your children. We had a safe Fall Semester thanks to our staff, teachers and parents working together and following the Covid-19 Protocols.
Seeing our gymnasts, dancers, and karate and parkour students come back and find joy in their favorite activities was a highlight for all of us. A testament to our care to health and safety, some families added a second class for their child. There are many options- a ballet and gymnastics class, a gymnastics and parkour class, or even two gymnastics classes. Any combination works.
We look forward to another great semester! Thanks for your support.
call us
212.749.8717
visit us:
251 West 100th Street at West End Avenue New York, NY 10025
sign up for our newsletter
For children who want something a little different than what traditional team sports and martial arts have to offer, Parkour for Kids at Discovery Programs is the way to go!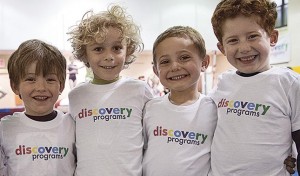 Discovery is not just for girls! Gymnastics, sports and gym, and junior sports.
"Discovery is like a breath of fresh air in the city! You just attract nice, down to earth people."
"We've visited a lot programs, but your program has the most loving teachers! Everywhere else they tell us how much the kids will know when they leave, but you talk about learning to trust yourself, feeling secure, and having fun! That's what we want."
"She had a terrible separation experience and I was so nervous. But she did great here. You guys know what you're doing!"
"The Discovery Almost on My Own pre-school program has been so much more than a 'school' for our daughter. We've felt welcomed into a family."
"Baby Gym is a great, great program!! The instructors go out of their way to make each minute a positive experience. They really make it special."
read more
Semester dates
Current semester: Summer Semester begins June 23rd.  Register online only.  Fall 2021 begins on September 30th.
June 23rd - August 26th
Summer Camp is Back! All camps will take place at our temporary summer location, Franciscan Community Center at 214 W. 97th St. We will also offer Half Day…

read more

Winter/Spring Semester Registration Open Now! In-Person, Outdoor and Virtual Options We had a safe Fall semester and we look forward to the Winter/Spring which begins February 1st. Our…

read more

Join us! We will continue to engage, inspire and connect with our students in safe ways. Masks required * Health screening * Social distancing * Small class sizes…

read more
Last month we featured our gymnastics coaches, this month we feature our other teachers. We asked them the following questions: ..

read more

We are so happy to be able to offer your children safe physical activity again. One month has gone by since our opening and things are going smoothly..

read more