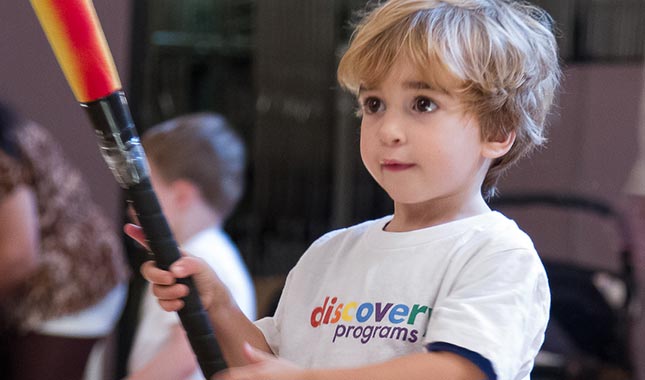 "This class is spectacular! My son doesn't want to leave. I'm going to tell all my friends about it."
Are sports for kids?
Yes, as toddlers and preschoolers begin to develop a sense of their own body and explore the exciting field of movement they can partake in age appropriate games and activities designed to introduce them to various sports and different physical disciplines. Here at Discovery, our sports for kids program is action packed from beginning to end in a non-competitive environment taught by our encouraging and caring instructors. Children will gain confidence and coordination while developing strong bones and a healthy body. They will have lots fun as they are exposed to a brand new exciting world of physical activities.
The children will be exposed to several different sports throughout our 16 week program. They will begin to develop team work and be set on the right path of physical fitness. Your toddler and preschooler will follow different sport theme activities every two weeks, developing new skills and learning the basic concepts, vocabulary and fundamentals of each sport. In our sports for kids program, they will kick in soccer, swing in tennis, and learn to run bases in baseball. They will develop their catching and throwing skills playing basketball centered activities. They will play and act like a golfer then switch their club and long stroke for a hockey stick and a slap shot. The boys and girls will even spend two weeks partaking in our specially designed cross fit for kids activities.
Besides a fantastic cardiovascular workout and fun games, the children will gain better body control and strength. The sports for kids program is structured to introduce sports through a carefully proven formula for progression as they develop a wider understanding and physical capability. Most importantly, the children will have so much fun they will not want to leave. Our staff is proud to have the opportunity to use sports as a way to help our students develop a healthy body and mind.
Fee
*6 week outdoor price $258
Ages 25-36 mos
OUTDOOR PARK CLASSES
5 sessions $200 - Starts, July 9 In the park class