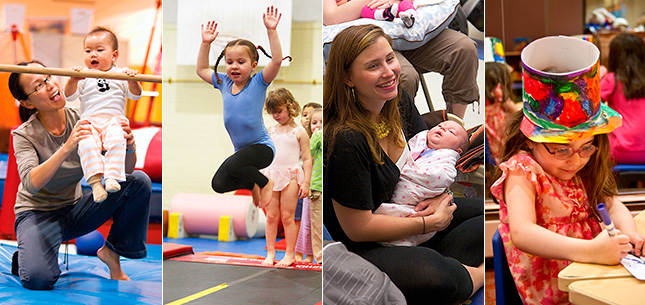 "As Director of Discovery Programs, we wanted to let you know just how much we love how professionally your establishment is run. We have been to a few dance and gymnastic places over the past few years for our 5 year old, and not one comes close to yours insofar as the care and attention provided to the students. Your administration and teachers should be proud! As business owners dealing with the public ourselves, we know this is a reflection of how well you lead by example."
"She always tells us how great her ballet classes are with Saki. And she loves her gymnastics classes with Robert. Thank you all for loving what you do!"
"My kids didn't come for just one semester … they grew up in Discovery Programs!"
"Discovery is like a breath of fresh air in the city! You just attract nice, down to earth people."
"You are a wonderful team of educators – the best!"
"We want to thank the staff of Discovery programs for our daughter's happy introduction to going to school on her own. The On-My-Own Program is an excellent concept."
Mother of Katie S. age 32 mos.
"She had a terrible separation experience and I was so nervous. But she did great here. You guys know what you're doing!"
"The Discovery Almost on My Own pre-school program has been so much more than a 'school' for our daughter. We've felt welcomed into a family."
"Discovery's 'On My Own' program has exceeded my highest expectations! After touring many of the prestigious preschools on the upper west side, I realized that 'On My Own' 2 years olds are doing what many preschools introduce for 3 year olds! And most importantly, it is a warm nurturing environment that my daughter loves."
"We've visited a lot children's programs, but your program has the most loving teachers! Everywhere else they tell us how much the kids will know when they leave, but you talk about learning to trust yourself, feeling secure, and having fun! That's what we want. "
"Hold on tight to all your teachers- they are wonderful!"
"My daughter is in the On My Own B class, Tues/Thurs, and yesterday she was treated to a 'big sister' party. I wanted to thank everyone at Discovery for taking the time and making the effort to create what sounded like a great way to help Margot celebrate this momentous time in her life."
"Son to mom's friend… This is a cool school; it's my school!"
"My two-year-old can't wait to come to 'school' (On My Own)! He talks about his teachers and sings the songs he's learned one after the other – it's a regular medley at bedtime!"
Mom re-enrolling for baby gym: "Baby Gym is a great, great program!! The instructors go out of their way to make each minute a positive experience. They really make it special."
"I want to express how happy we are with Discovery. Eleanor absolutely LOVES gym class and open gym. She asks almost every day if today we go to gym class. When we are out walking the dog she pulls me to the synagogue doors and is so bummed when I tell her we cannot go in. We've gone to other gym classes in the UWS and nothing compares to yours. We really appreciate the organization of the class and the attention Mary provides all the children. Once again, thank you for all you do for the children."
"Gym class ended last week, and I wanted to tell you again that I thought it was an exceptional class. I loved that the class was much more than just playtime. There was a real sense of skills that these just-barely-two-year-olds could be working on, and a lovely way of helping the adults in the class facilitate the process of learning. I learned skills too–like how to hold him by his belly and lower back instead of by his hands to help him balance–that have helped me work constructively with him outside of class, particularly at the playground. Thank you for providing great learning experiences for my children!"
"We absolutely love Music, Dance & Storytime at Discovery! At 16 months, my daughter loves the instruments and songs, the movement and dance, the stories and animals, the balls and scarves and most importantly the teacher's energy, enthusiasm, and unique ability to engage every child. I attribute her love for music to MDS at Discovery. We couldn't have asked for a more perfect on-going class. Thank you Discovery for offering such a wonderful program!"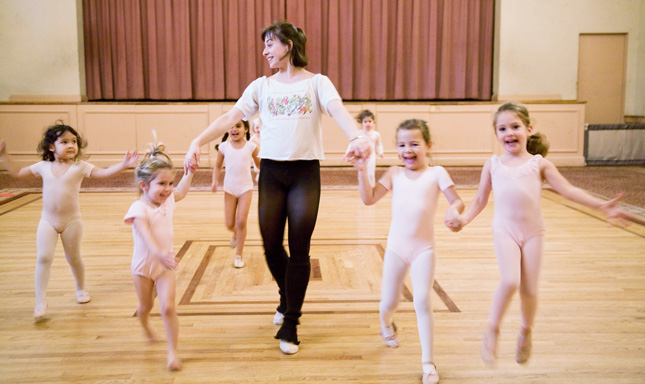 "Ballet is the most special experience for our daughter."
"When I grow up I want to be a ballerina teacher like at Discovery."
"My daughter lights up if we even mention the Discovery Programs. She cannot wait for her ballet class each week and to show us all the wonderful new things she learned."
"We have been absolutely thrilled with Discovery Programs. Lucy took the toddler art studio class for 4 weeks last summer, has been in the On-My-Own program since September and is now in a pre-ballet class. I cannot say enough good things about the teachers and staff at Discovery Programs. I have found them to be all extremely talented, creative, enthusiastic and caring."
"Our daughter was so thrilled with her pre-ballet class. She learned the basics and she developed a sense of creativity with her movement. See you next year."
Thank you for a wonderful year at Discovery! She has loved ballet these last two years, and learned so much – and absolutely loves performing! As parents, we cannot underscore the importance of knowing she is safe and happy in her activities, and everything has always been so well run. We are lucky to have Discovery in our neighborhood and hope to be part of the family for a long time to come!
Thank you,
"My daughter is in the gym class. She (and I) love the teachers. Their energy and connection to the kids was so impressive."
"The Gym class was great. The teachers are so a loving. I really appreciate how the children are allowed to work at their own pace. Thanks a ton!"
"I like the coaches! If it weren't for this program, I wouldn't be doing gymnastics."
10 year old Discovery gymnastic student
"Gymnastics has become so important to my daughter – to her identity, her sense of self, the social connections she has with the girls on the team, her self-confidence, her exploring taking risks and competition; she hates the limelight and yet there she is, taking up space in the floor routine, all eyes on her…and it is thanks to you, to the way you encourage without pushing, the way you are making it fun and something she treasures. You are are making a big difference in her life and the lives of all the kids you coach."
"Hi Karin! We loved Tuesday's promotion as does George. He has been eagerly anticipating it for weeks and was so proud to show off his skills and earn his new belt. He brought it in to preschool yesterday to share. Both boys are terribly excited about the fact that you will have a black belt promoted at discovery soon! Looking forward to Henry's promotion and will forward you videos and pictures. Thank you for all of your support, knowledge and kindness you impart on our boys. Very grateful, Julia"
"He gained so much confidence this summer, and his world expanded as he learned more about being with new kids and adults. Loving camp primed him to love school, and we're so happy that these experiences are his introductions to camp and school. You all really did a fantastic job at camp."
"He had a wonderful summer at Discovery Camp thanks to the warmth, creativity and professionalism of you and your faculty. As I watched him enter his classroom this year and greet his new teachers and mostly unfamiliar classmates, I saw a different, more comfortable boy with extra confidence thanks to his summer at Discovery Camp."
"You and your team truly manage to make it such a welcoming, cozy, nurturing and memorable place. And not only for her, but also for us parents. Thank you for doing such extraordinary work. It is not for granted. We are very lucky to have you."
"He's really enjoyed his time at discovery and has said many fond things about you especially and he talks about his new friends too. He's really learned so much. I'm shocked that he can write- he didn't even know how to write his name until he started kindergarten so it's great to see him getting a head start. I look forward to bringing his sister there when she's 3 years of age"!
"It's not like other programs – it's a combination."
"It's just special in some way… and you know what I mean about special if you've been coming for a few years!"
"We had a ballet party for our 4 year old daughter Ali in April. I just wanted to let someone know that it was a fabulous party. Everyone, including the adults who don't get to see their kids dance, loved it. The kids felt so comfortable and had such a great time. I was very happy with the way everything worked out. I would love to have both my kids parties here every year. Thank you."