welcome to discovery programs
An Upper West Side treasure offering children's
gymnastics
,
dance
,
preschool
,
sports
,
karate
,
music
,
art
,
early childhood classes
, for NYC kids for over forty years. Discovery is dedicated to providing creative, nurturing and meaningful experiences that allow children to grow as active learners while engaging the entire family. Sign up today and experience for yourself our great teachers and inspirational programs that generations of families have loved and remember.
call us
212.749.8717
visit us:
251 West 100th Street at West End Avenue New York, NY 10025
sign up for our newsletter
For children who want something a little different than what traditional team sports and martial arts have to offer, Parkour for Kids at Discovery Programs is the way to go!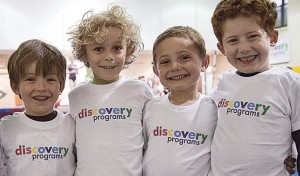 Discovery is not just for girls! Gymnastics, sports and gym, and junior sports.
"Discovery is like a breath of fresh air in the city! You just attract nice, down to earth people."
"We've visited a lot programs, but your program has the most loving teachers! Everywhere else they tell us how much the kids will know when they leave, but you talk about learning to trust yourself, feeling secure, and having fun! That's what we want."
"She had a terrible separation experience and I was so nervous. But she did great here. You guys know what you're doing!"
"The Discovery Almost on My Own pre-school program has been so much more than a 'school' for our daughter. We've felt welcomed into a family."
"Baby Gym is a great, great program!! The instructors go out of their way to make each minute a positive experience. They really make it special."
read more
Semester dates
Current semester:  Fall Semester begins September 9th and ends on January 28th. Winter/Spring Semester begins February 1st. Call to Register at 212-749-8717



The Spark! December 2019 A Note From The Director Dear Parents, This past December marked my 11th and my daughter, Sabrina's, 8th Nutcracker Suite at Discovery. It's unbelievable…

read more

Priority Registration for Winter/Spring Now Open! Priority Registration for the Winter/Spring 2020 semester will be open from November 14th – December 2nd! If your child is currently enrolled…

read more

Winter Recital The Nutcracker Suite Dear Parents,  This is a reminder that tickets for the Winter Nutcracker Suite will be on sale this Monday, November 11th.  PERFORMANCE –…

read more
This month we asked some Discovery parents to share their experiences with the Nutcracker recital and dance program..

read more

This month we are interviewing Natalie. She is a new music teacher here at Discovery and she works with our students..

read more